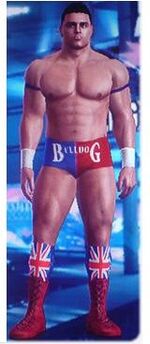 William Scott-Smith (January 3,1989) is a British professional wrestler from Manchester, Great Britain. He is also the twin brother of Charlie Scott-Smith.He currently works for the Excel Wrestling Action!.
In Wrestling
Edit
Signature Moves
Edit
Championships
Edit
Excel Wrestling Action! Roster
Fury-Matt Cross, Matthew Shields, Darin Rooky, Bryce Young, Gregory Deed, Dark Lord, Brett Bourne, Taguchi Fatu, Sato Fatu, Sobbo Fatu, Golden Aztec, Silverdust, Brett Hardy, Codebreaker, PTR, Steve Cage, Robert Cage, Andrew Williams, Christian Williams, Acey James, Chris Hart, Matt Orton, Massacre*, The Grudge, Tebby
Ravage-William Storm, Chris Storm, Pete Ryder, Eric Storm, "Aztec" Warrior, Triple D, Darin Kennedy, Michael Jarrett, Scotty Haas, Ken Kingston, William Scott-Smith, Charlie Scott-Smith,Painkiller, Mrs.Perfect, Kelly Blare, Chris Risten,Kyle Ravage, James Knight, Ron Orton, Adam Roy, Jason Swagger, Suicide, Sol Fatu
References
Edit
http://fantasysports.wikia.com/index.php?title=William_Scott-Smith
Ad blocker interference detected!
Wikia is a free-to-use site that makes money from advertising. We have a modified experience for viewers using ad blockers

Wikia is not accessible if you've made further modifications. Remove the custom ad blocker rule(s) and the page will load as expected.